#1 PUBLISHER'S WEEKLY BESTSELLING AUTHOR
MORGAN MURPHY
LIFE IS TOO SHORT FOR FLABBY BACON
CRISPY, SMOKED, DRY-AGED BACON HAS BEEN HARD TO FIND... UNTIL NOW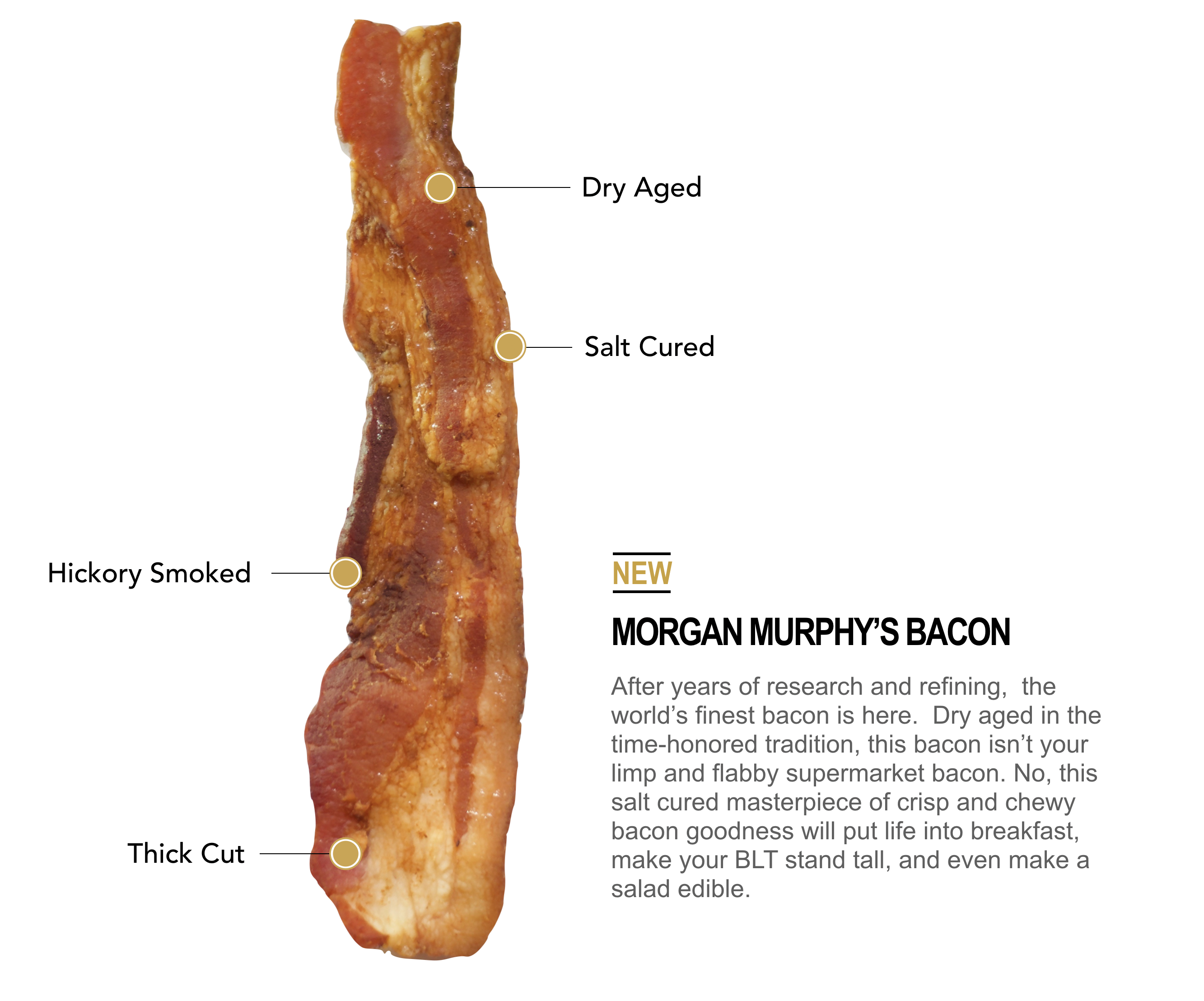 DELIVERY TO YOUR DOORSTEP
CAN'T MAKE IT TO OUR STORE AT PEPPER PLACE? WE'LL SEND OUR BACON TO YOU VIA UPS
SATISFACTION GUARANTEE
IF YOU DON'T LOVE MORGAN'S BACON, WE'LL ISSUE A FULL REFUND

NO MICROWAVING
DON'T NUKE PROPER BACON
CALL US
(205) 379-0929
Mon-Fri 10am to 5pm
GET THE LATEST BACON TIPS, RECIPES, AND MORE FROM MORGAN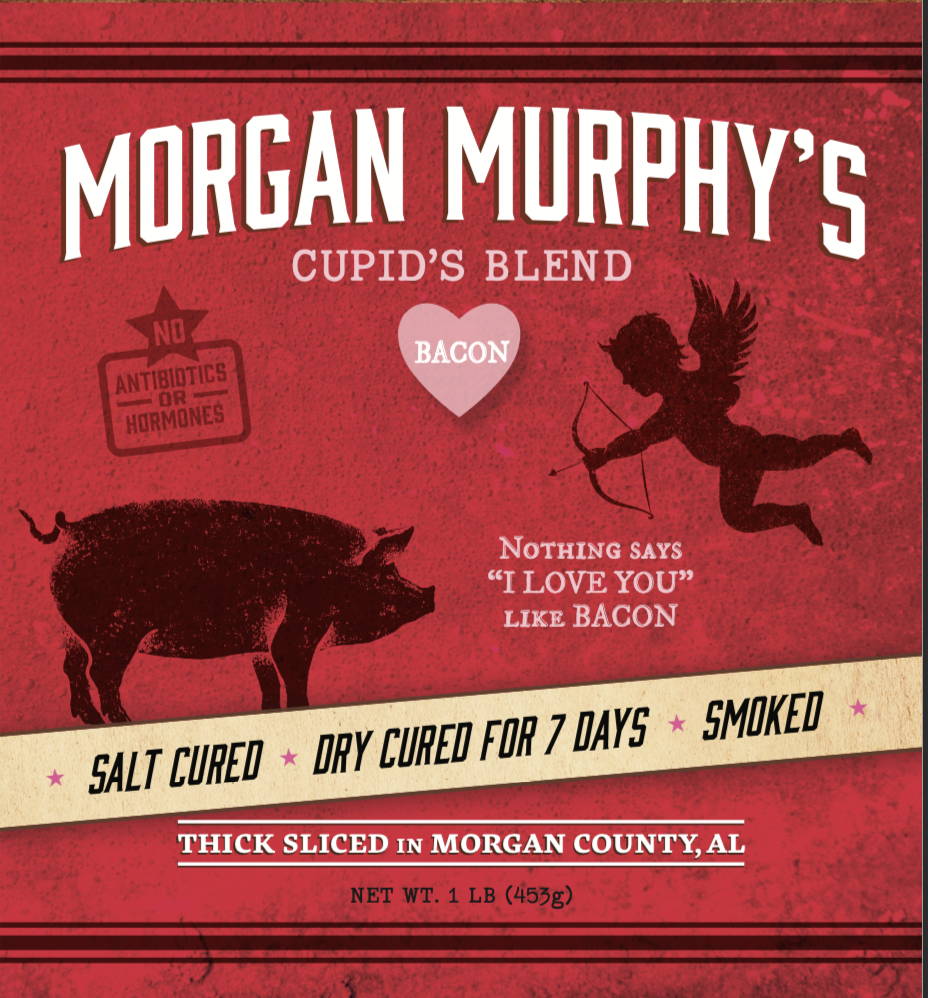 Valentine's Special Blend Bacon

Slightly Spicy
Like your love life
No Hormones
They'll get you in trouble every time.
Salty but Addictive
Isn't that what keeps them coming back? Yes. Yes it is.
Roses and chocolates: a cliché for amateurs. And you're no amateur. Make this V-Day one to remember with Morgan's special Valentine's blend of his premium, thick cut bacon. One slice and your beloved will know that you mean business. Morgan himself was born on Valentine's Day, so romantic that he is, infused extra love and care into these 1 lb. packages of bacon goodness. Our advice? Buy a dozen.
CAUTION: DO NOT FRY BACON NEKKID
$13.95 per lb.
Morgan's Smokehouse Bacon

Dry Cured
Most bacon these days is wet cured, which means you're buying a lot of water. With our process, more bacon makes it onto your plate.
Smoked
Smoking meats not only adds incredible flavor, but also acts as a natural preservative. Our bacon is smoked with the finest hickory wood, giving it a flavor that will fill your kitchen with the smell of bacon heaven.
Thick Cut
Thin bacon is for cheap hotel buffets and nefarious types, not great patriots like you. Our thick cut bacon gives a meaty chew that you'll never forget.
Morgan's original Smokehouse Bacon is crafted right here in Morgan County, Ala. in the time-honored traditions honed by generations of Southerners. We take no shortcuts, so you shouldn't either: microwaving bacon is for communists. So break out your grandmama's cast iron skillet or fire up the oven. It's time for bacon.
$13.95 per lb.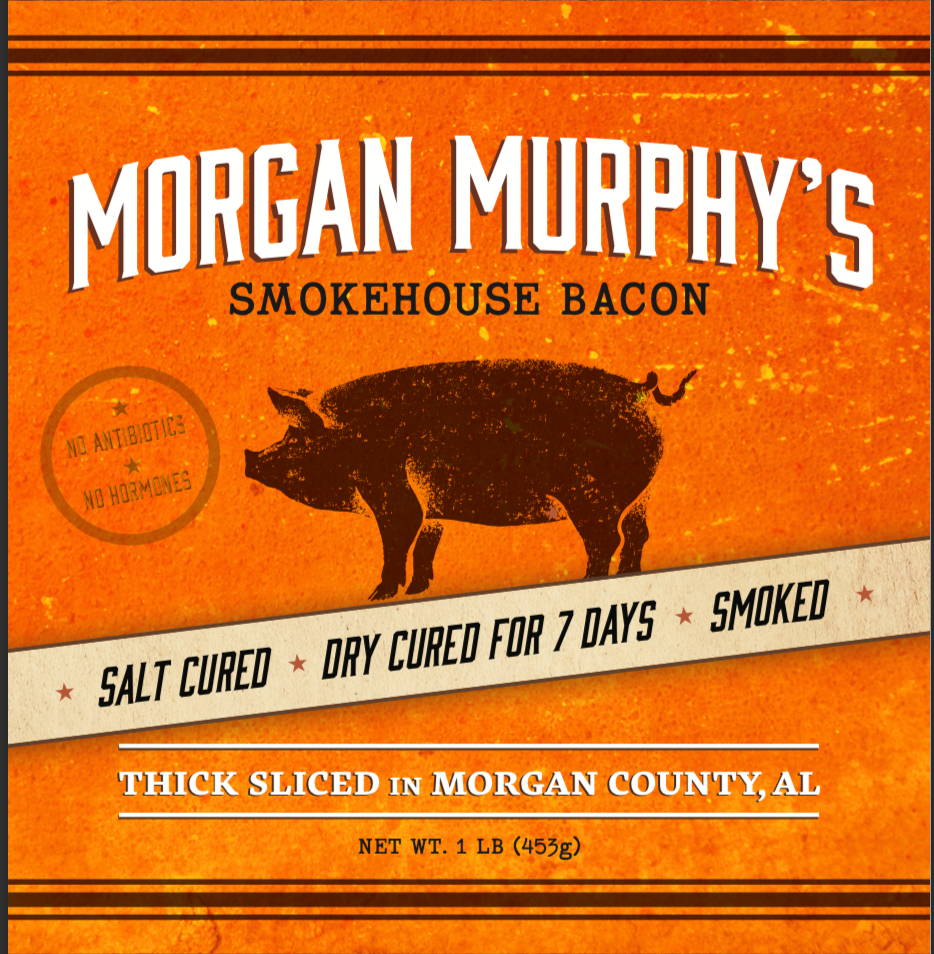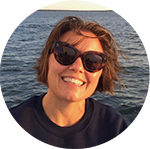 "Please tell me that you ship to Yankees."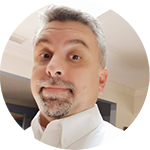 "The red pepper bacon was incredibly delicious! I even put it on m home made pizza!"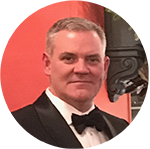 "As far as cooked pig 🐷 goes AMAZING. And who doesn't like bacon? (Communists)"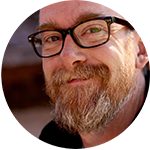 "We were fortunate enough to receive 2 pounds of Morgan's bacon as a Christmas gift. We fried it all up and served it to our extended family at our annual Christmas gathering. It was the hit of the party. The only negative being that 2 pounds was clearly not enough for our group of 15 as there were no leftovers! Can't wait to get some more.